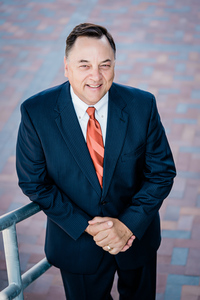 Dan P. Unruh, CCIM
316-221-8501
Dan Unruh is a founding partner with InSite Real Estate Group. Since his first days pounding the streets in 1987 as a young commercial agent, Dan has dedicated himself to creative client-driven transactions, successful development projects and building a work/life balance that has yielded fantastic results. The foundation of Dan's career has centered around commercial brokerage, development, and corporate real estate disciplines. His career path has included corporate work internationally, managing projects on four continents and 16 countries along with retail, industrial, office, and land development in the Midwest.
In 1999, Dan co-founded InSite Real Estate Group with the intent of providing exemplary service to InSite's clients, offering value creation strategies through effective negotiations, attention to detail, and a firm understanding of the importance of commitment to the client. As a result, the company has enjoyed consistent growth from a 2-person office to a top-5 commercial firm serving the Wichita metro area.
In service to his industry, Dan has served in the role of adjunct professor teaching commercial development curriculum at Wichita State University. He has volunteered his time with the board of directors for the Kansas CCIM Chapter, Habitat for Humanity, Alzheimer's Association, Air Capitol Cosmopolitan Club, and the Commercial Investment Exchange steering committee amongst other activities.
In service to the community, Dan has been a strong supporter of the Wichita State University Alumni Association, serving as a board member and board chair, and is past president of the Air Capitol Cosmopolitan Club in support of fundraising and education in the field of diabetes research and education.
Dan and his wife, Alissa have enjoyed 35+ plus years building their life together. They count among their many successes, two grown daughters. Dan is a Certified Commercial Investment Member and a graduate of the Barton School of Business at Wichita State University with a major in international business and a minor in economics.
If Dan isn't in the office, he's likely working in the yard, spending time with family (especially his amazing grandkids), watching Shocker basketball from row 3, or cruising a lake on his pontoon!