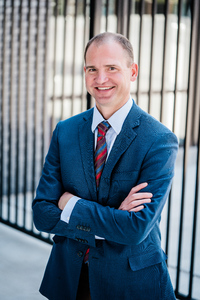 Mark Murphy joined our team in April 2018. Prior to joining InSite, Mark worked extensively in the commercial banking sector and for a brief time in human resources. In his banking roles, Mark served as a commercial banking relationship manager with an emphasis on business development and client retention. He has experience financing commercial real estate and in reviewing and preparing project feasibility analyses. Mark is an expert in helping clients prepare financing documents to achieve optimum financing terms for his clients.
Mark has a broad business background that includes extensive knowledge of retail enterprises. He and his wife own a well-known women's fashion boutique featuring top-quality fashions and brands. Mark's banking background, retail experience, and network of business professionals provide a useful platform for assisting clients with their commercial real estate needs.
Mark is very active in the community serving as President of the East Wichita YMCA Board and the East Y Men's Club. He is a distance runner, Wichita State Shocker Basketball fan, and avid supporter of youth soccer activities. He is originally from Wichita and graduated from Wichita State University. Mark and his wife Kami have three children and a rambunctious Vizsla puppy.